Overview
Our inaugural Meadow board! STM32F7 microcontroller, WiFi, BLE, integrated battery charger, and a whole lot of awesome. Comes with a breadboard, so you can begin building out of the box. Powerful, energy-efficient STM32F7 microcontroller with WiFi, BLE, 216MHz, 16MB RAM, 32MB Flash, 2D graphics and JPEG acceleration.Tons of GPIO, PWM, I2C, SPI, CAN, UART and more. Solar power ready with integrated LiPo battery charger.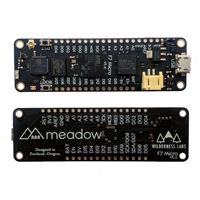 Meadow F7 Micro Development Kit
Available for In-Store Pickup Only.