Matias

Matias Programmable Ergo Pro Keyboard for PC
Overview
The Matias Programmable Ergo Pro Keyboard for PC enhances the health and ergonomics of typists by providing a range of keyboard adjustments, including: tenting of the center, negative tilt to make the front of the keyboard higher than the back, and separated left and right side so that each half can be in the optimal position and angle for the user. This is combined with premium gel palm supports that are bonded to Lycra, a short reach to the mouse due to an optimized keyboard layout, and Matias Quiet-Click mechanical switches with long key travel (3.5 mm) and a non-linear force curve (60g actuation force dropping off rapidly in a non-linear fashion) for an amazingly comfortable typing experience. Other special features include: sculpted keycaps for faster and more comfortable typing, laser-etched keys, a USB 2.0 hub, audio and media controls, and special anti-ghosting circuitry. Preset keyboard shortcuts, including dedicated keys for cut, copy, paste, and undo, are useful right out of the box, or you can easily reprogram these keys and many others without the need for software, to customize your keyboard for the way you work.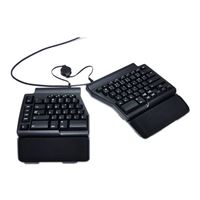 Matias Programmable Ergo Pro Keyboard for PC
Usually ships in 5-7 business days.