WD

WD Red 12TB 5400RPM SATA III 6Gb/s 3.5" Internal NAS Hard Drive
Overview
Designed with home and small office/business customers in mind, the 12TB Red 5400 rpm SATA III 3.5" Internal NAS HDD Retail Kit from WD is well-suited for NAS environments with up to eight 3.5" drive bays. Engineered to handle increased workloads, this 12TB drive operates using a SATA III 6 Gb/s interface, a 256MB cache, and a rotational speed of 5400 rpm, all of which help to ensure uninterrupted data transfers with a sustained rate of up to 196 MB/s. This drive also features high levels of reliability, with 600,000 load/unload cycles, 14 non-recoverable read errors per bits read, error recovery controls, and 1,000,000 hours MTBF for 1-8 bay NAS systems. Also built into this drive are noise and vibration protection and WD's NASware 3.0 helps increase system compatibility, allowing WD Red drives to be more easily integrated with your existing network infrastructure.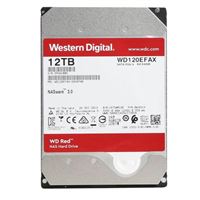 WD Red 12TB 5400RPM SATA III 6Gb/s 3.5" Internal NAS Hard Drive
Usually ships in 5-7 business days.