Seeed Studio

Seeed Studio Grove - Real Time Clock
Overview
Grove - DS1307 RTC is based on the clock chip DS1307 and supports I2C communication! Grove - DS1307 RTC uses a Lithium cell battery (CR1225). The clock/calendar provides seconds, minutes, hours, day, date, month, and year information. The end of the month date is automatically adjusted for months with fewer than 31 days, including corrections for leap year. The clock operates in either the 24-hour or 12-hour format with AM/PM indicator.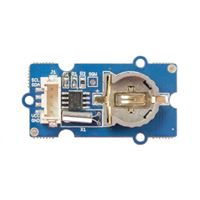 Seeed Studio Grove - Real Time Clock
Usually ships in 5-7 business days.