Inland

Inland Metal Monitor/ Laptop Stand
Overview
Say goodbye to a messy workspace with the Metal Monitor/ Laptop Stand. Rather than setting your monitor directly on the desktop, this high quality stand elevates your monitor to an ergonomically proper eye position while providing additional workspace and increased storage area for less desktop clutter. The sleek and stylish unit with U-shaped legs will blend nicely with a variety of home or office decors. Reduce eyestrain while working smarter and more organized.
See Other Similar Wall Mounts & Stands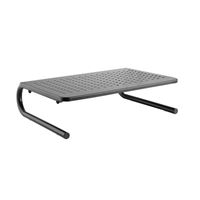 Inland Metal Monitor/ Laptop Stand
Usually ships in 5-7 business days.