One For All

One For All URC1810 Samsung Replacement Remote
Overview
Guaranteed to work 100% of all Samsung TVs. There is no setup required for most Samsung televisions, simply insert the batteries and start using it. Full learning feature, add any function from any other remote control. Keys include all common Samsung functions like: Menu, Guide, HDMI and Smart Hub.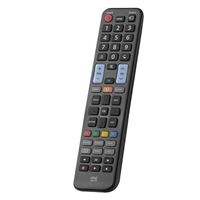 One For All URC1810 Samsung Replacement Remote
Usually ships in 5-7 business days.