Small World Toys

Small World Toys OFFBITS Character Kit - ArtBit
Overview
This OFFBITS ArtBit Character Kit provides children and parents alike with endless hours or imaginative, open-ended and creative play through off-the-shelf hardware components and proprietary custom connectors. What we like to call "The Art of Spare Parts". Kit comes with over 30 parts.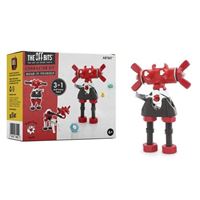 Small World Toys OFFBITS Character Kit - ArtBit
Usually ships in 5-7 business days.