52Pi

52Pi Solderless Breadboard and Acrylic Test Mounting Plate for Beaglebone
Overview
One of the biggest challenges when prototyping is just keeping everything in place. The 40 Pin ribbon cable between a Beagle Bone and breadboard can be difficult to work with on the bench. This flavored prototyping plate aims to solve the problem! The plate is produced with laser cut 1/8? acrylic in an awesome transparent color. It has 8 perimeter mounting holes as well as plenty of space for the included adhesive rubber feet - this should keep your project where you want it! Next to the Pi, a Solderless breadboard can be mounted using its adhesive backing.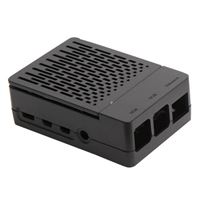 52Pi Solderless Breadboard and Acrylic Test Mounting Plate for Beaglebone
Usually ships in 5-7 business days.