Overview
Replacement laptop battery for HP laptops & notebooks, models include various Pavilion G6 units, CQ42, CQ56, CQ62, CQ32, CQ57, CQ43, G42, CQ72, G56, G6, G62, G7, G72. This is an OEM replacement for HP part numbers including MU06, 586006-121, 586006-141, 586006-241, HSTNN-178C, HSTNN-179C, HSTNN-181. See the specs tab for detailed HP laptop compatibility. This 5200 mAh Lithium-Ion battery is rated at 11.1V and has an average run time of Up to 5.0 Hours. The longevity rating is 300-500 Cycles and it comes with a 1 year warranty. Micro Center offers HP laptop battery replacement and installation services to ensure your laptop will be back up and running quickly ask the store for details.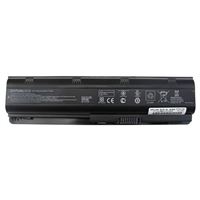 Battery for HP Laptop MU06 CQ42 CQ56 CQ62 CQ32 CQ57 CQ43 G42 CQ72 G56 G6 G62 G7 G72 WD548AA 593553-001 593554-001 584037-001 586006-321 593550-001 636631-001 586028-341 588178-141 HSTNN-CB0W HSTNN-Q61C HSTNN-Q62C HSTNN-UB0W
Available for In-Store Pickup Only.