AOC

AOC 27B2H 27" Full HD 75Hz VGA HDMI IPS LED Monitor
Overview
Sleek and super-thin design, flexible inputs, large 27" IPS panel with popping colors and eye-saving features AOC's 27B2H is equipped with a 27", Full HD IPS panel with true-to-life colors. VGA and HDMI connections offer flexibility in source devices. The 27B2H is a good contender for multi-monitor setups thanks to VESA mount support, 3-side borderless design and wide viewing angles. Plus it is equipped with LowBlue and FlickerFree technologies.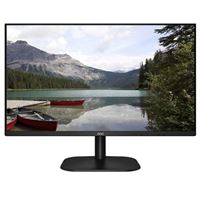 AOC 27B2H 27" Full HD 75Hz VGA HDMI IPS LED Monitor
Usually ships in 5-7 business days.