Overview
Long Lasting and Long shelf life. Gives you more than 100 Hours usage in Continuous discharge. The discharge performance of the battery is very strong. Fresh and long lasting batteries Replacing and fitting any Brand. Advanced engineering and state-of-art manufacturing. Longer life and consistently reliable performance. 23A alkaline batteries used the international advanced laminated technology, compared with the general 12V battery is different. The shell is made of specially stainless steel. It will not easily oxidize rust.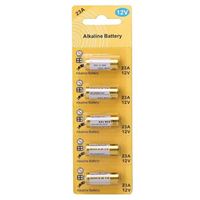 23A 12 Volt Alkaline Electronics Battery - 5 pack
Available for In-Store Pickup Only.