NetGear

NetGear Nighthawk RAX20 AX1800 Ethernet Wireless Router
Overview
The NETGEAR 4-Stream AX1800 WiFi 6 Router, built with the latest generation WiFi 6 technology, provides greater capacity to handle more devices on your network and speeds up to 1.8Gbps, ensuring that you can enjoy blazing fast Internet connections on all your devices. This next-gen router is recommended for small to medium homes, up to 1,500 sq. ft., with 20 or more connected devices. Powerful quad-core processor ensures superior performance for concurrent real-time applications such as multimedia streaming, online gaming and audio.
Thinking of leaving your cable provider?

You'll find helpful articles and FAQs about cutting the cord in our Tech Center.
---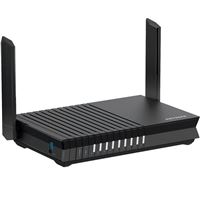 NetGear Nighthawk RAX20 AX1800 Ethernet Wireless Router
Usually ships in 5-7 business days.