ASUS

ASUS RT-AX3000 AX3000 Dual Band Gigabit Wireless AX Router - w/ AiMesh Support
at Cambridge StoreSold Out

Overview
Upgrade to the next generation of networking and WiFi with the RT-AX3000 WiFi 6 router, capable of delivering speeds up to 2.5x faster than the previous WiFi generation. Featuring the latest technology including OFDMA, MU-MIMO, and Adaptive QoS ensuring wider coverage and maximum speeds to all of your devices.
Thinking of leaving your cable provider?

You'll find helpful articles and FAQs about cutting the cord in our Tech Center.
---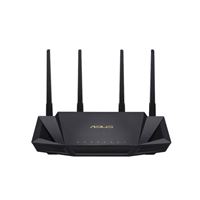 ASUS RT-AX3000 AX3000 Dual Band Gigabit Wireless AX Router - w/ AiMesh Support
at Cambridge StoreSold Out