Weller

Weller BL60MP Cordless Soldering Iron with Rechargeable Battery
Overview
The BL60MP is ideal for soldering micro-components, electronic kits, and low voltage wiring. The BL60MP is acceptable to use on PCBs, radio-controlled devices, indoor lighting, hobby models, small appliance, small engines, crafts, audio systems, electrical, marine, jewelry, and automotive. This iron is not recommended for use on heavy-duty applications such as heat sinks, ground planes, metal art, and plumbing.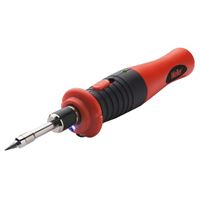 Weller BL60MP Cordless Soldering Iron with Rechargeable Battery
Usually ships in 5-7 business days.