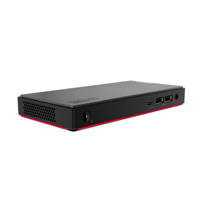 Lenovo Lenovo ThinkCentre N90n Nano Desktop Computer

Intel Core i5 8265U 1.6GHz Processor; 8GB DDR4-2666 RAM; 256GB SSD; Intel UHD Graphics 620
Overview
Intel Core i5 8265U 1.6GHz Processor
8GB DDR4-2666 RAM
256GB SSD
Intel UHD Graphics 620
Windows 10 Pro
10/100/1000 LAN + WiFi 5 WLAN
Display Not Included
Ultra-small, powerful, and versatile, the ThinkCentre M90n-1 Nano is here to take the desktop standard to a whole new level of convenience. Powered by the latest generation Intel processors and backed by SSD storage it makes everyday computing effortless. The 0.35L M90n-1 Nano is 65% smaller than a ThinkCentre Tiny and can easily fit in any office environment. Compatible with Tiny-in-One (TIO), USB Type-C docks, and monitors, the Nano can give your business a much-deserved shot in the arm.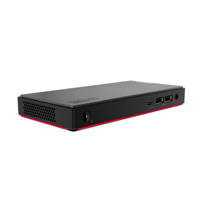 Lenovo ThinkCentre N90n Nano Desktop Computer

Intel Core i5 8265U 1.6GHz Processor; 8GB DDR4-2666 RAM; 256GB SSD; Intel UHD Graphics 620
Usually ships in 5-7 business days.