Arduino

Arduino MKR VIDOR 4000
Overview
The Arduino MKR Vidor 4000 brings Arduino's ease of use to the work with the most powerful reprogrammable chips that exist: FPGAs. With Vidor you can create a board where all pins are PWM signals controlling the speed of motors. You can capture sound in real time and make a sound effect pedal for your guitar. It is possible to create a real-time computer reading sensor information and sending it to a state-of-the-art monitor or capture video and overlay sensor information on the image that will then later be sent over to a screen. You can connect to the Arduino IoT Cloud and control a complex laboratory machine running a large amount of motors. You could even prototype your own processors inside the FPGA and have it to work in parallel to the other microcontroller on the board. Vidor is a device that invites for experimentation, precision, and high speed computation.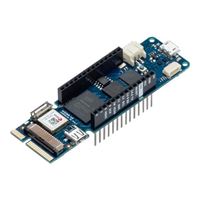 Arduino MKR VIDOR 4000
Usually ships in 5-7 business days.