Raspberry Pi Raspberry Pi HQ Camera for Raspberry Pi 4 - 12.3 megapixel Sony IMX477 sensor

7.9mm diagonal image size; back-illuminated sensor architecture; adjustable back focus; support for C- and CS-mount lenses

Overview
Compatible with all Raspberry Pi boards from the Raspberry Pi 1 Model B onwards.
Offers an approximately 50% increase in resolution and sensitivity over the Camera Module v2, resulting in sharper images and better low light performance.
Compatible with C and CS lenses, or other formats with third- party lens adapters.
Features a Sony IMX477 sensor and milled aluminum lens mount with integrated tripod mount and focus ring.
Includes cable to connect to the CSI port on the Raspberry Pi board.
Lens not included.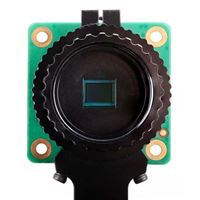 Raspberry Pi HQ Camera for Raspberry Pi 4 - 12.3 megapixel Sony IMX477 sensor

7.9mm diagonal image size; back-illuminated sensor architecture; adjustable back focus; support for C- and CS-mount lenses
8 NEW IN STOCK at Denver Store
Located In Aisle 32►VIEW MAP