BTI

BTI Replacement Laptop Battery HT03XL-BTI 4-cell 11.55V, 3470mAh Li-Polymer Internal Notebook Battery for HP - COMPAQ HP 240 G7, 246 G7, 250 G7, 255 G7, 256 G7, 340 G5, 348 G5
Overview
Replacement laptop battery for HP laptops & notebooks, models include 240 G7, 246 G7, 250 G7, 255 G7, 256 G7, 340 G5, 348 G5. This is an OEM replacement for HP part numbers including HT03XL, L11119-855, L11421-421. See the specs tab for detailed HP laptop compatibility. This 3,470 mAh Lithium-Ion battery is rated at 11.55V and has an average run time of Up to 5.0 Hours. The longevity rating is 300-500 Cycles and it comes with a 1 year warranty. Micro Center offers HP laptop battery replacement and installation services to ensure your laptop will be back up and running quickly ask the store for details.
---
This is an internal battery and replacement requires laptop disassembly.
Get it professionally installed while you shop for $49.99.
Our in-house technicians will apply the same precise care when installing your new laptop battery as we do for the thousands of other computers that we repair every week.
What to Expect:
Quick, professional installation
Completed while you shop, or dropoff and pickup same day
Complimentary cleaning, any dust found removed
Verification of proper battery function
Your old battery properly disposed of
1-Year parts and 30-day labor warranty
See an associate in-store to have your new battery installed today!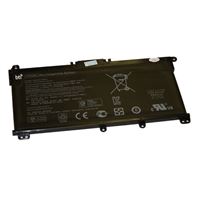 BTI Replacement Laptop Battery HT03XL-BTI 4-cell 11.55V, 3470mAh Li-Polymer Internal Notebook Battery for HP - COMPAQ HP 240 G7, 246 G7, 250 G7, 255 G7, 256 G7, 340 G5, 348 G5