Wrap-It

Wrap-It Super Stretch Silicone Bands 16 pack - Black
Overview
Wrap-It Silicone Bands come in a 16 pack. These bands are can be used for all sorts of day to day activities from helping seal containers to binding your earbud cables together so you don't have to spend for ever tying to untangle them.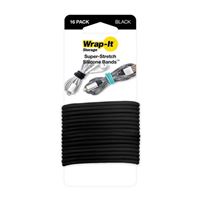 Wrap-It Super Stretch Silicone Bands 16 pack - Black
Usually ships in 5-7 business days.