Visiontek

Visiontek VT1000 Universal Dual Display USB 3.1 Gen 1 Dock
Overview
The VisionTek USB Dual 2K Universal docking station allows you to easily connect your Windows, Mac OS or Chrome OS laptop to dual displays and the most popular connectivity ports through a single USB connection. This high-quality dock is a single-cable solution that enables you to take full advantage of up to two monitors and full HD technology, even if it isn't natively supported by your computers video card. Featuring Plug & Play installation (without the need for drivers or additional downloads), you can easily turn your laptop into a complete workstation by adding peripherals such as a full-sized keyboard, mouse, external hard drives, printers, webcams and projectors. This all-in-one dock delivers a total of 8 ports in a unit designed to instantly connect and disconnect from your USB laptop through a single high-speed cable. Featuring DisplayPort, HDMI and VGA display support through simple connectivity, this full-featured USB dock allows your laptop to perform like a desktop. This single-cable docking station is ideal for expanding work displays, connecting larger displays to share information, connecting additional displays to clone for education, and charging mobile devices. With its compact size, you can easily connect and expand your laptop functionality anywhere you go.
Learn More about the VT1000 Universal Dual Display Dock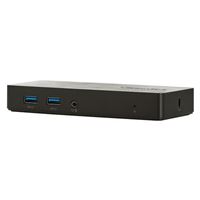 Visiontek VT1000 Universal Dual Display USB 3.1 Gen 1 Dock
Usually ships in 5-7 business days.