Monoprice

Monoprice Cadet 3D Printer
Overview
The First Mission to Discovery is here with the Monoprice Cadet 3D Printer. The perfect printer for beginners just starting their journey to experienced users looking for a desktop friendly counterpart. The MP Cadet is easy to use and ready to start printing within 30 seconds of taking it out of the box. Printing with the built in Wi-Fi is a snap - just connect the printer to the Wi-Fi App and it's ready to go! The full auto leveling system takes the frustration out of manual leveling: making it easier to start a print the first time and eliminating the need for constant tinkering.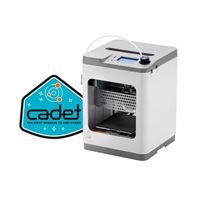 Monoprice Cadet 3D Printer
Usually ships in 5-7 business days.