PowerSpec PowerSpec B744 Desktop Computer

Intel Core i7 9700K 3.6GHz Processor; 16GB DDR4-3200 RAM; 1TB SSD; Intel UHD Graphics 630

Overview
Intel Core i7 9700K 3.6GHz Processor
16GB DDR4-3200 RAM
1TB SSD
Intel UHD Graphics 630
Windows 10 Pro
10/100/1000 LAN + WiFi 5 WLAN
Display Not Included
The PowerSpec B744 desktop computer is a powerful business machine featuring the Intel Core i7-9700K Unlocked processor, a 1TB NVME SSD, 16GB of DDR4 3200 memory, and the ASUS Prime Z390-P system board powered by a 600W power supply providing an excellent value loaded platform for your most demanding computing needs! Note: This system is preinstalled with Windows 10 Pro software.

Bring Marvel's Avengers To Life With In-Game PC Optimizations, Powered by Intel
For a limited time, get Marvel's Avengers when you purchase a qualifying 9th and 10th Gen Intel® Core™ i5, i7 or i9 boxed processor, or 9th or 10th Gen Intel Core i5, i7, or i9 processor-based device.
INCLUDED IN THIS BUNDLE
Marvel's Avengers full download.
Assemble your team of Earth's Mightiest Heroes, embrace your powers, and live your Super Hero dreams. Marvel's Avengers is an epic, third-person, action-adventure game that combines an original, cinematic story with single-player and co-operative gameplay*. Assemble into a team of up to four players online, master extraordinary abilities, customize a growing roster of Heroes, and defend the Earth from escalating threats. For additional information go to www.playavengers.com.
IN GAME CONTENT
Receive the Marvel's Avengers Hero Outfits including Black Widow's Sanguine Kiss Outfit, Captain America's Star-Spangled Outfit, Hulk's Unbreakable Outfit, Iron Man's Iron Relic Armor Outfit, Ms. Marvel's Insta-Fab Outfit, and Thor's Dwarven Forged Outfit to further customize your gameplay experience.
GAMING ACTION
Enhanced Enemy Destruction
Packed into this exciting title are things like richer armor destruction, with more debris flying in more pieces and more places.
Super-Charged Heroics
Your favorite Avengers' signature heroic moves now create more detailed rubble and debris that stays on screen longer, so you can really see the full effect.
Reactive Water Simulation
Even the water looks better on a high-end Intel powered processor. With the optimal balance of cores, threads and frequency, any interaction with water becomes a richer, more responsive experience.
GET STARTED NOW
Purchase a qualifying Intel processor-based device from Micro Center. Receive a Master Key with your purchase. It will be printed on your receipt. Once you have your master key:
Go to softwareoffer.intel.com/MarvelsAvengers
Sign-in or create an Intel Digital Hub account
Once your account is verified, log in and enter your Master Key by March 31, 2021 to claim your software
Agree to the Offer Terms and Conditions and complete the short survey
Select and download the available software products
*Terms and Conditions apply.


Offer good through February 28, 2020 or while supplies last. Website redemption is open until March 31, 2021. Qualifying Devices: Intel Core i5/i7/i9 9th & 10th Gen Boxed Systems and NUCs: Desktop K-skus, Notebook H-Series, S Series. Learn more at https://softwareoffer.intel.com/offer/20Q3-19/learnmore

© 2020 MARVEL © Intel Corporation
Demand Performance
Great For Content Creation, Picture/Video Editing, And Managing Your Digital Office
PowerSpec B-Series PCs are robust business-class systems designed to power you through every demanding task. Built with high-end components like Intel® Core™ or AMD Ryzen™ processors and pre-installed with Windows 10 Pro or Windows 10, these systems are well equipped to give you a commanding edge on every endeavor. The all-powerful PowerSpec B-series processing components are complimented by superior technology including performance enhancing motherboards, plenty of memory and storage for your important files and documents, video projects, photo libraries, all protected by built-in security features to keep your data and business safe from harm.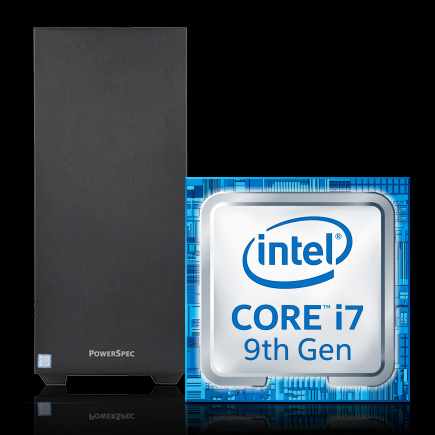 Intel® Core™ i7 9700K
Every successful business has superior tools in its employ. The 3.6GHz unlocked Intel® Core™ i7 9700K is that tool. It has a Max Turbo Frequency 4.90 GHz, 12 MB of Intel Smart Cache, and 8 cores of pure processing power plus:
Optane Memory supported: Quick access to essential data
vPro™ Technology: Network manageability and security
Intel Secure Key: Data protection via encryption
Boot Guard: Protection from malicious software and attacks
Intel UHD Graphics 630
Based on the Coffee Lake architecture with 14nm technology, the Intel UHD 630 offers a base clock speed of 350MHz and a max clock frequency of 1150MHz. It provides a maximum of 64GB shared memory. You can incorporate up to three displays, with a maximum monitor resolution of 496 x 2304. In addition the Intel UHD Graphics 630 supports Intel Quick Sync, Intel Clear Video Technology, DirectX version 12, OpenGL version 4.5.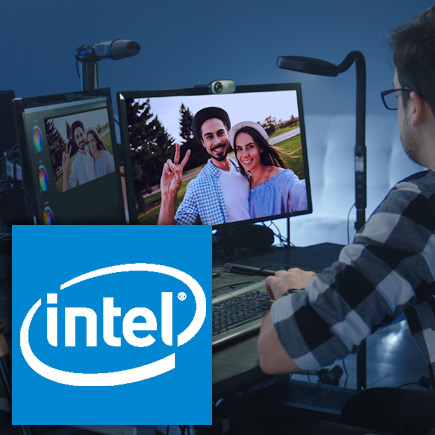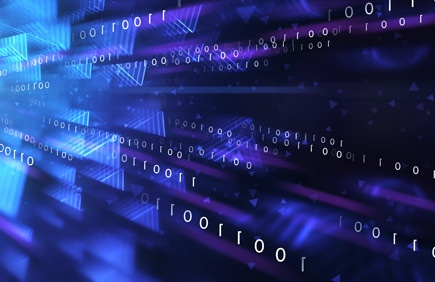 1TB Solid State Drive
More reliable and significantly faster than traditional spinning-platter hardrives, solid state drives work more like a large flash drive giving you quick access to your data. With no moving parts generating heat, solid state drives use less power and keep your system cooler which helps reduce component failure. Light weight and durable, solid state drives are often found in portable devices since they are less prone to travel damage and accidents like being dropped.
16GB DDR4-3200
DDR4 has improved function over DDR3 offering faster data transfer rates and more memory banks giving it increased capacity. It also requires less energy so it is more power efficient. The more capacity and the faster the speed, the better your memory is able to keep up with today's multi-core processors.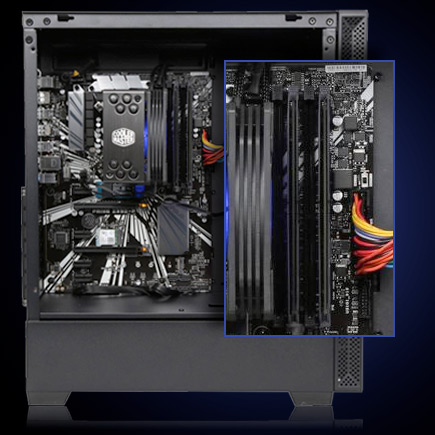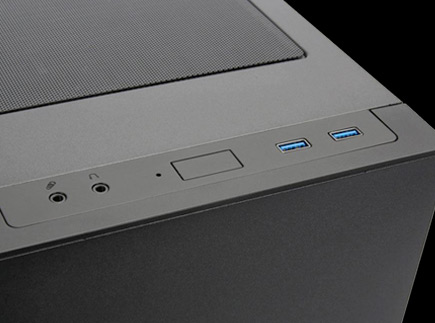 Front And Top Panel Ports
The B744 has easy access to your most often needed ports including:
2 x USB 3.1 (Gen 1 Type-A)
1 x headphone
1 x microphone
Lian Li ATX 205 Case
The Lian Li 205 demonstrates elegance and minimalism in its sleek design. Show off your build with its tempered glass side panel. Fit to house any component you desire. You dream it, you can build it in this case. From water cooling to custom fans!
See More PC Desktop Computers
PowerSpec B744 Desktop Computer

Intel Core i7 9700K 3.6GHz Processor; 16GB DDR4-3200 RAM; 1TB SSD; Intel UHD Graphics 630
at Fairfax StoreSold Out