Overview
This Bluetooth enabled, personal safety device was created to give you and your loved-ones added peace of mind by allowing you to make phone calls and send alerts in emergency situations when you can not reach your phone. To minimize confusion during an emergency, the Silent Beacon is designed with dual buttons to limit false alerts. It contains status LED lights and vibration for notification assistance. Not only can you automatically text and email your current GPS location, but you can also send a non-emergency nudge message to let contacts know if you are safe. Also features 2-way communication with large speaker and noise cancellation microphone for hands-free communication.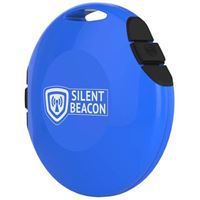 Silent Beacon Wearable Safety Device - Blue
Available for In-Store Pickup Only.