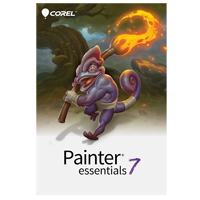 Corel

Corel Painter Essentials v.7.0 - Box Pack - 1 User
Overview
Start your creative journey with Painter Essentials 7, the best paint program for beginners to explore and expand artistic curiosity using impressive, easy-to-learn tools. Produce incredible photo art with ease by converting your favorite photos into paintings using neural networking and the strength of Painter's brush engine! Choose from an impressive range of AI styles for photo painting, including Bold Watercolor, Colored Pencil, Colorful Dabs, Impressionist, Smooth Acrylic, Van Gogh, Watercolor Portrait, and Charcoal Drawing. Open your image and the painting choice is yours. Auto-Paint, in one click, with AI, or SmartStroke technology that rapidly produces stunning results. Clone paint by dipping any brush you like directly into the photo, or trace by turning on tracing paper and selecting a brush and color while using the image as your guide. Immerse yourself in an intriguing collection of realistic brushes and canvas textures that respond to your every move when using a pressure-sensitive drawing tablet. Dry, wet, springy, speckled, spattered, glowing, gooey, patterned media is at the ready, allowing you to bring your wildest ideas to life. Create with artist-trusted brushes. Every brush in Essentials was custom selected for new digital artists from our professional Painter art studio so that you can comfortably ease into your digital art experience.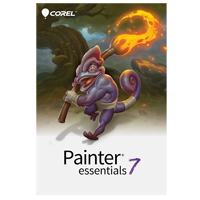 Corel Painter Essentials v.7.0 - Box Pack - 1 User
Usually ships in 5-7 business days.