Overview
The Teslette works on the same principles as the Tesla coil and illuminates fluorescent bulbs using wireless energy transfer. This kit is easy to assemble and a great introduction to electronics. Dont let this spark-less coil fool you! The Teslette is perfect for folks just learning how to solder, science classrooms, and those on a budget who still want the Tesla coil experience.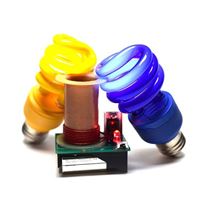 Teslette - Mini Tesla Kit
Available for In-Store Pickup Only.