BLU BLU G70 Unlocked 4G LTE - Black Smartphone

GSM; 2 GB RAM/32 GB Storage; 6.4'' HD+ Infinity Display; 13 Megapixel + 2 Megapixel Camera
Overview
GSM
2 GB RAM/32 GB Storage
6.4'' HD+ Infinity Display
13 Megapixel + 2 Megapixel Camera
Android 9.0 Pie
Dual Nano SIM
The G70 is powered by the Mediatek Helio P23 chipset with 2.0GHz of processing speed. Paired with a powerful GPU, you get great performance with power efficiency. With a gorgeous 6.4 HD+ Infinity Dot Display, the G70 brings the BLU brand to another whole new level. Giving the user excellent screen to body ratio that fits all content on screen and beyond. With the G70, capturing those special moments are a snap with dual 13MP + Depth Sensor. Smile for the 8MP Selfie camera with BLU Final Touch with the right amount of post effect for a professional grade social media post. Unlock your smartphone with the press of a finger for quick access. The G70 ensures total security for all your important applications and files.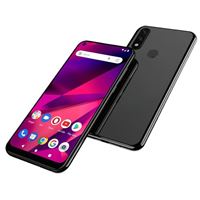 BLU G70 Unlocked 4G LTE - Black Smartphone

GSM; 2 GB RAM/32 GB Storage; 6.4'' HD+ Infinity Display; 13 Megapixel + 2 Megapixel Camera
Usually ships in 5-7 business days.