eSun

eSun Water Washable Resin - White (500ml)
Overview
Water washable resin has the same strength and properties as regular resin, but can be cleaned up with water instead of solvents. This safe, eco- friendly resin offers excellent surface precision and is excellent for home and education use. Compatible with most LCD Printers.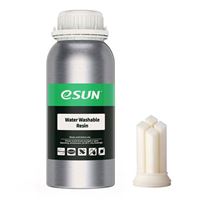 eSun Water Washable Resin - White (500ml)
Usually ships in 5-7 business days.