Inland

Inland 10 W Qi Power Bank w/ 1 x USB Type-A: 2 A @ 5 VDC and 1 x USB Type-C: 3 A @ 5 VDC Charging Ports
Overview
This 10,000 mAh wireless charger provides 5 or 10W of charging power to compatible Qi devices. Convenient LED indicator lights can show you how much power remains in the battery with just the push of a button. Over current protection, over temperature protection, and short circuit protection well help keep your device from getting damaged.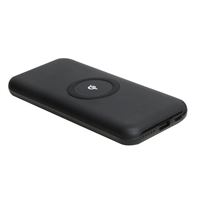 Inland 10 W Qi Power Bank w/ 1 x USB Type-A: 2 A @ 5 VDC and 1 x USB Type-C: 3 A @ 5 VDC Charging Ports
Usually ships in 5-7 business days.