BLU BLU G60 Unlocked 4G LTE - Black Smartphone

GSM; 3 GB RAM/64 GB Storage; 6.1'' HD+ Infinity Display; 13 Megapixel + 2 Megapixel Camera
Overview
GSM
3 GB RAM/64 GB Storage
6.1'' HD+ Infinity Display
13 Megapixel + 2 Megapixel Camera
Android 9.0
Dual Nano SIM
Introducing the all new BLU G60, a stylish and attractive smartphone. Matched with a curved glass touch panel for a great handheld experience. Using the latest paint finish, the G60 comes in a gradient tone that screams design.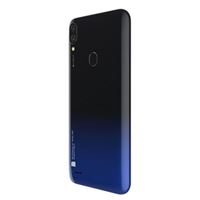 BLU G60 Unlocked 4G LTE - Black Smartphone

GSM; 3 GB RAM/64 GB Storage; 6.1'' HD+ Infinity Display; 13 Megapixel + 2 Megapixel Camera
Usually ships in 5-7 business days.