TP-LINK

TP-LINK AX3000 Wi-Fi 6 Dual Band PCI-e Bluetooth 5.0 Adapter
Overview
The very latest Wi-Fi 6 standard guarantees extreme speed, ultra-low latency, and uninterrupted connectivity. Utilizing the Wi-Fi 6 foundation, Archer TX3000E is designed to liberate your gaming from cables and fully optimize your gameplay. Discover the missing component of your gaming arsenal! Archer TX3000E is compatible with the latest Bluetooth 5.0 Technology, achieving 2× faster speed and 4× broader coverage than Bluetooth 4.2. Connect as many devices as you want, including game controllers, headphones, and keyboards, to enjoy a smoother experience than ever before. A revolutionary combination of OFDMA and MU-MIMO technologies ensures the most efficient Wi-Fi connection for your PC. OFDMA technology divides band resources into smaller units while MU-MIMO allows more devices to communicate simultaneously without lag. Lower latency is essential to gaming success, OFDMA reduces lag by up to 75%. Enjoy ultra-responsive real-time gaming or immersive VR experiences.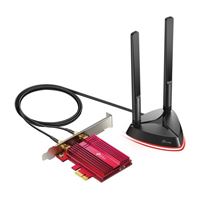 TP-LINK AX3000 Wi-Fi 6 Dual Band PCI-e Bluetooth 5.0 Adapter
Usually ships in 5-7 business days.