Zoom

Zoom H5 Handy Recorder

Overview
Our products are constantly evolving to meet the needs of the creators who use them. With the H5 Handy Recorder, the tradition continues. The H5 provides four tracks of simultaneous recording and, like our flagship H6, it uses a system of interchangeable input capsules, allowing you to choose the best microphone for every recording situation. In addition to being fully compatible with all H6 capsules, the H5 comes with a newly redesigned detachable X/Y stereo microphone, housed in an improved shockmount for reduced handling noise and equipped with advanced electronics for extended signal capacity. Records on SD card 16MB to 2GB, or SDHC card 4GB to 32GB.
Audio As Compelling As The Story You're Telling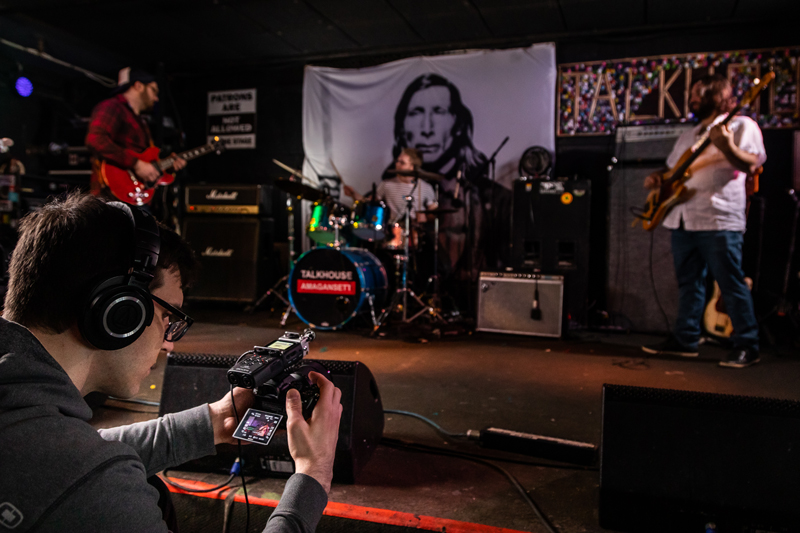 The H5 provides four tracks of simultaneous recording and, like our flagship H6, it uses a system of interchangeable input capsules, allowing you to choose the best microphone for every recording situation.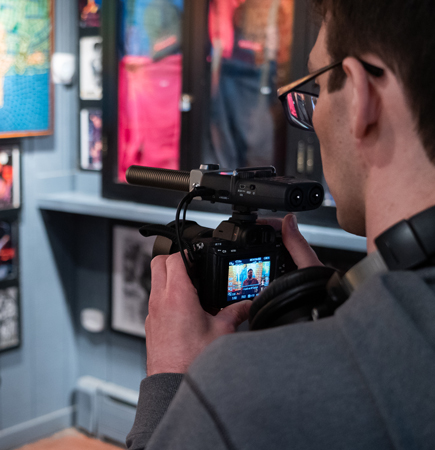 Pre-Record. Auto Record. Back-up Record.
A pre-record function that keeps the H5 continuously recording in the background, keeping the previous two seconds before you hit RECORD.
There's an Auto-Record function that allows recording to begin automatically when a certain level of sound is detected and an equivalent Auto-Stop function that ends recording when the sound drops below a user-designated level, either immediately or up to 5 seconds later.
And then there's Backup-Record—the ultimate safety net.* It enables the H5 to automatically record a duplicate set of stereo tracks with 12dB less input gain. Even if your original track is distorted, chances are the Backup version will be fine!
* 44.1 and 48kHz WAV files only.
Louder. Cleaner. Clearar.
The design of the XYH-5 also allows the H5 to handle louder sounds than any other Handy Recorder model: 140 dB SPL, to be precise—equivalent to the sound of a jet aircraft from less than 200 feet away—enabling you to capture sounds louder, closer, and cleaner than you ever could before.
The H5's modular design means that you can always use the best microphone for every recording environment. For example, the Zoom XYH-6 large diaphragm X/Y mic capsule allows you to alter the angle of its microphones (choose 90 degrees for a more focused sound or 120 degrees for a wider stereo image), making it a good choice for recording classical music and for capturing sound effects in the field.
Our MSH-6 mid-side mic capsule is the perfect accessory for film and video work. In conjunction with the H5's built-in MS decoder, it enables you to alter the width of the stereo soundstage during recording or in postproduction, while still maintaining perfect mono compatibility.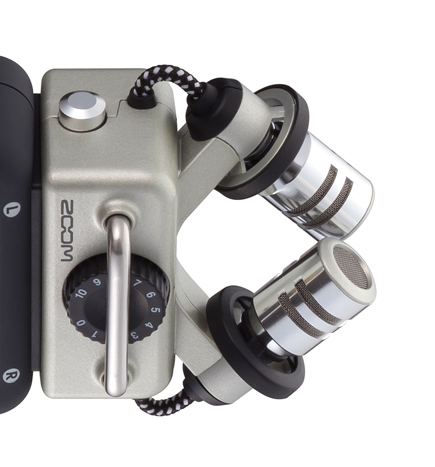 The Hardware
In addition to standard transport controls (stop, play/pause, record, rewind and fast-forward), the front panel of the H5 offers dedicated record arming buttons for each track, which double as mute switches during playback. A Hold switch disables all front panel buttons to prevent accidental operation during recording. The H5 can be attached to a camera strap or, with the use of our optional Hot Shoe mount, mounted directly to a DSLR or camcorder.
The H5 also provides everything you need to connect with the outside world. Dual combo XLR/TRS inputs that can handle both mic- and line-level signals allow you to connect external microphones and line-level devices like mixers, portable music players, effects processors and electronic keyboards—even electric guitars or basses equipped with active electronics. Each H5 input has its own dedicated gain control knob, located beneath a protective bar that prevents accidental movement during handling. The supplied XYH-5 X/Y capsule also provides a secondary input for connecting stereo mic- or line-level signal via a 1/8" mini phone jack. The H5 supports a +4 dB (professional) input level and utilizes the same high-quality preamps as our flagship H6, ensuring great-sounding recordings in all sonic environments.
The Software
The H5 can operate in two different modes—choose stereo for two-track stereo recording, or multitrack for four-track recording (in either stereo pairs or individual mono tracks)—and it captures audio in the two most commonly used file formats: WAV and MP3.
The WAV files recorded by the H5 can be 16- or 24-bit, with sampling rates of 44.1, 48, or 96kHz*. They are automatically time-stamped and thus Broadcast Wave Format (BWF) compliant, allowing for precise synchronization in video post-production. MP3 files, while slightly lower in fidelity, are much smaller than WAV files and are thus easier to email and post on social networking sites—allowing you to quickly and easily share your creations around the world.
* 96kHz sampling rate available in stereo mode only
The H5's onboard effects allow you to add polish to your recordings. Compression and limiting compensate for fluctuations in input level, while a low-cut filter helps eliminate wind noise, blowing, and other kinds of low frequency rumble. There's even an onboard metronome and chromatic/guitar/bass tuner.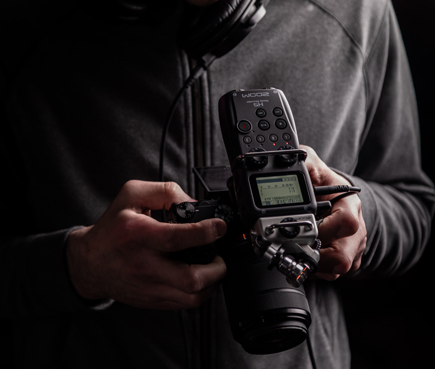 Features
Interchangeable input capsules swapped out as easily as the lens of a camera
Compatible with all Zoom input capsules
Large backlit LCD display
Records directly to SD and SDHC cards up to 32GB.USB port for SD card reader
Analog-style gain controls for each input
Protective "roll-bar" type covers prevent accidental movement of gain controls
Selectable phantom power for either or both main inputs: +12/+24/+48V
Built-in effects, including low-cut filtering, compression and limiting
Chromatic tuner and metronome
20dB pads for either or both main inputs
Unique mono mix function eliminates perspective shifts during live recording
Normalize, Divide and Trim editing
Voice memo and up to 99 marks per recording
A/B loop playback
Variable playback speed, from 50% to 150%
Variable pitch without affecting playback speed
Multichannel and stereo USB audio interface for PC/Mac/iPad
Loop Back operation for combining live audio input with computer playback
Mountable directly to DSLR or camcorder with optional HS-01 Hot Shoe Mount adapter
Uses two standard AA alkaline or NiMH rechargeable batteries
Over 15 hours of operation with alkaline batteries
Optional AC adapter, wired remote control and hairy windscreen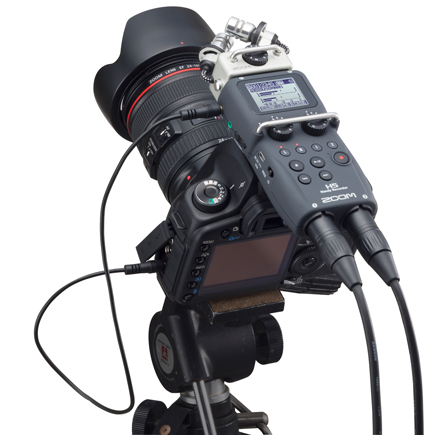 Learn More about the Zoom H5 Handy Recorder