Sapphire Technology

Sapphire Technology Radeon RX 5500 XT Pulse Overclocked Dual-Fan 8GB GDDR6 PCIe 4.0 Video Card
Available for In-Store Pickup Only.

Overview
The SAPPHIRE PULSE RX 5500 XT offers great performance at a price point that every gamer needs. With fast GDDR6 memory and redefined display and media engines, the PULSE RX 5500 XT is designed to usher a new era of PC gaming for 1080p gamers. Powered by AMD's extreme RDNA architecture, its finely-tunes Dual-X Cooling Technology keeps the GPU, Memory, and VRM components cool and the noise level low. The all-aluminum backplat provides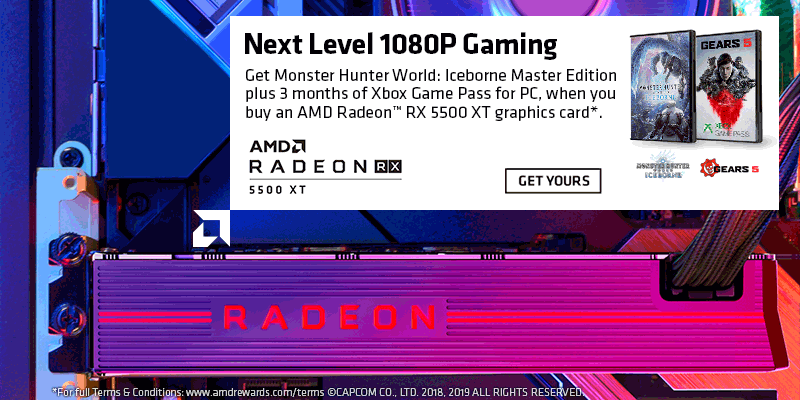 Jump into the action. Get Monster Hunter: World and Monster Hunter World: Iceborne massive expansion plus three months of Xbox Game Pass for PC when you buy an AMD Radeon RX 5500 XT graphics card*.
Get next level 1080p, ultra-responsive, high-fidelity AAA gaming at up to 60 FPS and esports gaming at up to 90 FPS. The AMD Radeon™ RX 5500 XT is equipped with up to 8GB of GDDR6 high-speed memory and PCI® Express 4.0 support for maximum game performance, exceptional power efficiency and outstanding value.
The AMD Radeon™ RX 5500 XT graphics card delivers incredible performance and is optimized for better visual effects such as volumetric lighting, blur effects, depth of field, and multi-level cache hierarchy for reduced latency immersive explosions, physics, and lighting effects, bringing realism to life. High-performance RDNA architecture was engineered to greatly enhance features like FidelityFX, Radeon™ Image Sharpening6, and Integer Display Scaling for maximum performance and beautiful gaming experiences.
Additional features include:
Integer Display Scaling Play classic games and relive the retro experience by scaling on-screen images from one pixel to four pixels (or more) to deliver a retro like visual gaming experience.
Radeon™ Boost Give your games a boost of performance and fluidity during fast on-screen motion by dynamically lowering resolution of the entire frame to allow for higher FPS with no perceived impact to quality.
Radeon™ Anti-Lag Radeon™ Anti-Lag helps minimize the amount of time between a gamer pressing a key or moving a mouse, and the response showing up on screen. Radeon Anti-Lag can increase response rates by up to 1.4x at a given frame rate. This is the ultimate feature for any gamer or eSport competitor. Now with DirectX® 9, 11, 12, and Vulkan® support.
AMD Radeon™ Software Adrenalin 2020 Edition The latest Radeon Software Adrenalin 2020 Edition introduces a completely redesigned user experience unleashing the full potential of your GPU, with day-0 drivers optimized for new game releases and a highly customizable gaming experience.
Terms and Conditions apply.
See your store associate for more information. *18+ only. Participating retailers only for eligible purchases made December 12, 2019 through January 27, 2020 or when supply of coupon codes is exhausted. Coupon code must be redeemed by February 29, 2020. Following purchase, product must be installed on system where coupon code will be redeemed. Void where prohibited. Residency and additional limitations apply. Full offer terms at www.amdrewards.com/terms. ©CAPCOM CO., LTD. 2018, 2019 ALL RIGHTS RESERVED.
Sapphire Technology Radeon RX 5500 XT Pulse Overclocked Dual-Fan 8GB GDDR6 PCIe 4.0 Video Card
Available for In-Store Pickup Only.