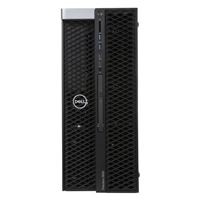 Dell Dell Precision 5820 Desktop Computer

Intel Xeon W-2133 3.6GHz Processor; 16GB DDR4-2666 RAM; 1TB HDD + 256GB SSD; NVIDIA Quadro RTX 4000
Get 3 months of Adobe Creative Cloud with select RTX Studio Systems
Overview
Intel Xeon W-2133 3.6GHz Processor
16GB DDR4-2666 RAM
1TB HDD + 256GB SSD
NVIDIA Quadro RTX 4000
Windows 10 Pro
DVDRW Drive
10/100/1000 LAN
Display Not Included
Your Precision 5820 Tower grows with your ideas no matter where they take you, thanks to a new chassis that combines a versatile design with outstanding storage scalability. Free with your Precision workstation, the Dell Precision Optimizer takes the guesswork out of customizing settings and automatically tunes your workstation to run the most popular Independent Software Vendor (ISV) applications at the fastest speeds possible. Featuring centralized management with Microsoft SCCM and KACE, simplified systems management to improve system reliability, detailed analytics and smart notifications to proactively address resource bottlenecks, certified graphics drivers downloads and Radeon ProRender ray-tracing plug-ins to render stunningly photo-realistic images all in an elegant, new UI. Precision Workstations are tested to ensure the high-performance applications you rely on every day run smoothly. Dell ISV-certifications cover the most popular independent software applications.

THE APPS YOU WANT
More than 30 Creative Applications Including Adobe Photoshop, Illustrator, Lightroom Classic, Premiere Pro, After Effects, and Dimension.
RTX ON. CREATIVITY ON.
Adobe apps are supercharged by GPU-acceleration and RTX technology.
Adobe Photoshop Lightroom
GPU-accelerated, AI-based "Enhance Details" feature automatically refines color detail of high resolution RAW images. GPU-accelerated image processing makes photo adjustments more responsive, especially on 4K displays.
Adobe Dimension
Bring your 2D designs and illustrations into 3D to see the effect of lighting and reflections, powered by RTX-accelerated ray tracing and AI denoising.
Adobe Premier Pro
AI Auto-Reframe automatically tracks the primary subject of landscape video and converts it to portrait aspect ratios for social media.
IMAGINATION MEETS INNOVATION.
Adobe Creative Cloud gives artists specializing in photography, graphic design, video editing, and 3D motion graphics a robust portfolio of 30+ apps and tools necessary to realize their creative visions.
NVIDIA RTX Studio laptops and desktops, combined with GPU acceleration technology and exclusive Studio Drivers, dramatically enhance performance and stability in essential Adobe apps.
AND SO MUCH MORE.
Adobe Fonts
Behance
Creative Cloud Libraries
Adobe Portfolio
Storage
Discover how your creative tools and process can be enhanced with NVIDIA RTX Studio and Adobe Creative Cloud.
*Terms and Conditions apply.


Offer valid for new and existing customers. Redemption Instructions:
Purchase an NVIDIA RTX Studio laptop or desktop from a participating retailer
Check your email for your promo code, then download GeForce Experience (https://www.nvidia.com/en-us/geforce/geforce-experience/) and create a new account or log in to an existing one
Click on your account icon in the upper right corner and select "Redeem"
Input the promo code from this email into the top bar and click "REDEEM"
The Adobe Creative Cloud offer will appear; click "REDEEM" to get your voucher code
Click on "COPY"; click on "Complete your redemption by following this link", paste the code and click "validate"
Create an Adobe ID or sign in with an existing Adobe ID
Click on "REDEEM"; click "Add payment method" for auto-renewal or "remind me later"
Click "Get Started" to download
Enjoy your 3-month complimentary membership to Adobe Creative Cloud All Apps
Get creative! Share your artwork on Instagram, Facebook, or Twitter with #studioshare
For troubleshooting help, please contact NVIDIA Customer Support
Dell Precision 5820 Desktop Computer

Intel Xeon W-2133 3.6GHz Processor; 16GB DDR4-2666 RAM; 1TB HDD + 256GB SSD; NVIDIA Quadro RTX 4000
Usually ships in 1-3 business days.