Propel

Propel Laser League RC Artillery Vehicle Tank
Overview
RC Artillery Vehicle Tank is a realistic remote control tank that can battle up to 11 other tanks at once. It has a realist turret rotation and can climb up to 45 degree angles. It has real infrared lasers and sound effects., and the tank rotates when it is hit. This is a single pack, and requires at least one more to battle. Can battle up to 8 tanks at once.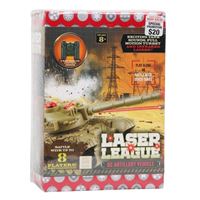 Propel Laser League RC Artillery Vehicle Tank
Find online. Buy in store.