Overview
Sometimes you just need an MP3 to play. Whether it's a theme song as you enter the room or a power song when you are working out. The SparkFun Qwiic MP3 Trigger takes care of all the necessary requirements, all you need to do is send a simple I2C command and listen to whatever is on your micro SD card. Utilizing our handy Qwiic system, no soldering is required to connect it to the rest of your system. However, we still have broken out 0.1"-spaced pins in case you prefer to use a breadboard.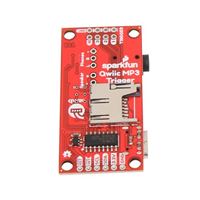 SparkFun Electronics Qwiic MP3 Trigger
Usually ships in 5-7 business days.