ASUS

ASUS TRX40-PRO Prime AMD sTRX4 ATX Motherboard
Save $100 when bundled with a compatible 3rd-Gen AMD Threadripper CPU
Available for In-Store Pickup Only.

Overview
ASUS Prime TRX40-Pro is expertly engineered to unleash the full potential of AMD's latest high-core-count processors for content creators, designers and professional use. Combining a robust power design, comprehensive cooling solutions, ultrafast PCIe 4.0 connectivity and intelligent tuning options, the high-end desktop motherboard delivers the performance and stability needed to turn every creative vision into reality.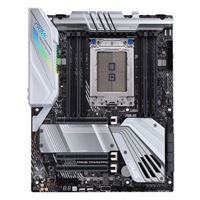 ASUS TRX40-PRO Prime AMD sTRX4 ATX Motherboard
Available for In-Store Pickup Only.