Amplifi

Amplifi High-Density Home Wi-Fi System - White
at Cambridge StoreSold Out

Overview
The AmpliFi HD (High-Density) Home Wi-Fi System includes a Router and two Mesh Points for Wi-Fi coverage throughout your home. The AmpliFi HD system delivers maximum throughput to meet your streaming and gaming demands with lag-free performance. The Router features an innovative and simple design with an intuitive touchscreen display. The Mesh Points provide enhanced coverage to eliminate dead spots in your home. A mobile app is available for iOS and Android platforms for instant setup and easy management.
Thinking of leaving your cable provider?

You'll find helpful articles and FAQs about cutting the cord in our Tech Center.
---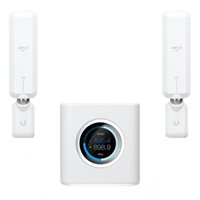 Amplifi High-Density Home Wi-Fi System - White
at Cambridge StoreSold Out