MacAlly

MacAlly Grip Clip Air Vent Phone Mount 360 Degree Adjustable - Black
Overview
The Macally MVENTGRAVITY is designed to allow one hand operation to mount your phone onto your cars air vent. Simply place the phone in the cradle and the grips will automatically close. To remove the phone is just as easy. Press the button to release the grips and remove your phone. The cradle grips open between 60 mm (2.36") and 86 mm (3.39") width to support a wide range of phones, with or without protection cases. The vent clamp can be easily and securely tightened in the air vent with the screw handle on the top. The supporting stand offloads the stress from the air vent and ensures a wide open vent for optimal air flow. The Macally MVENTGRAVITY offers many viewing angles and is perfect for navigation without obstructing your view while you drive!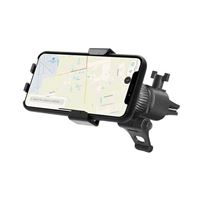 MacAlly Grip Clip Air Vent Phone Mount 360 Degree Adjustable - Black
Usually ships in 5-7 business days.