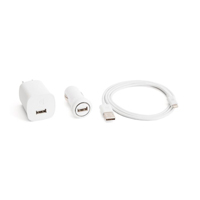 Griffin

Griffin 10W PowerDuo Chargers w/ Lightning Cable Kit
Overview
Griffin's ever-popular AC wall charger, and 12 volt DC car charger, together in one package. The package includes a detachable straight 3-foot (0.9 meter) USB charge/sync cable with a Lightning connector for iPhone, iPad, and iPod touch. PowerBlock wall charger works with any AC voltage from 100 volts to 240 volts, to deliver 10 watts of fast, safe charging for iPhone, iPod, and iPad. Fold-flat prongs make PowerBlock easy to travel with. PowerJolt car charger plugs into your car's accessory outlet. Plug in the included cable, or your own USB charge cable, to charge your iPhone, iPod, iPad, smartphone, or tablet with 10 watts of safe charging power while you travel.
Griffin 10W PowerDuo Chargers w/ Lightning Cable Kit
Usually ships in 1-3 business days.