Inland

Inland 2 Port 32W Smart Car Charger
Overview
This product is a high-performance and fashionable design Car charger. With this charger, it is feasible for you to charge any devices (digital cameras, PDAs, mobile phones, USB accessories) with your car when it is in necessity, and you can charge your USB Type-C supported devices. It is equipped with two USB connectors (an USB-C connector and an USB-A connector) for power. This product allows two devices to be charged at the same time, and the product provides the maximum output of 32 watts. It is helpful and convenient to use!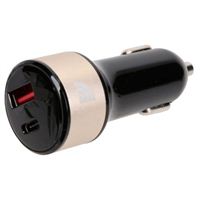 Inland 2 Port 32W Smart Car Charger
Usually ships in 5-7 business days.