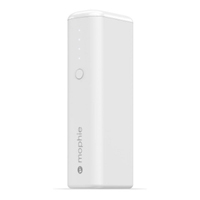 Mophie

Mophie Power Boost Mini V2 2,600 mAh - White
Overview
Mophies Power Boost Mini is capable of charging virtually any USB device in the world. Just connect any smartphone or wearable to the power boost V2 battery and press the status button to start charging. To charge your power boost, connect the included USB cable to a computer with a USB port or a third-party USB wall adapter.
Mophie Power Boost Mini V2 2,600 mAh - White
Usually ships in 1-3 business days.