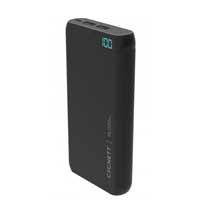 Cygnett

Cygnett ChargeUp 15,000 mAh Dual USB-Type-A 2.4 A @ 5 VDC Power Bank - Black
Overview
The ChargeUp Boost 15K is the perfect portable power solution for your smartphone device. Featuring the latest in Lithium Polymer Battery technology, the ChargeUp Boost 15K Portable Power Bank provides power at your fingertips for when you need it most.
Cygnett ChargeUp 15,000 mAh Dual USB-Type-A 2.4 A @ 5 VDC Power Bank - Black
Usually ships in 1-3 business days.