BayIt Home Automation

BayIt Home Automation Tech2 Juice Dual USB-A 5,000mAh Power Bank w/ Quick Charge Technology - Silver
Overview
With High Density Battery Technology, we can pack 5,000mAh of battery power in a design that will fit in the palm of your hand. This cutting-edge technology enables you to power up without being weighed down. Weighing at just 3.84oz Tech2 Juice can charge your iPhone 8 almost 2 times. Equipped with 2 USB Ports and 2.4A Max Output so you can charge 2 devices quickly and simultaneously.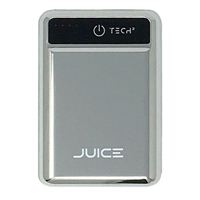 BayIt Home Automation Tech2 Juice Dual USB-A 5,000mAh Power Bank w/ Quick Charge Technology - Silver
Usually ships in 5-7 business days.