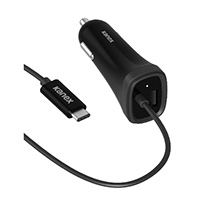 Kanex

Kanex 4 ft. USB-C Integrated Charging Cable + USB Type-A Charging Port Car Charger- Black
Overview
The USB-C Car Charger is the first car charger with a built-in USB-C cable. This cable will let you charge your new MacBook and any other USB-C ready device from the comfort of your car.
Kanex 4 ft. USB-C Integrated Charging Cable + USB Type-A Charging Port Car Charger- Black
Usually ships in 1-3 business days.