Scosche Industries

Scosche Industries Bluetooth Wireless Receiver (3.5mm)
Overview
Use it to stream music or audio from your Bluetooth equipped device to your non-Bluetooth devices such as earbuds headphones car or home stereo with crisp crystal-clear sound. The BTFreq Clip is compatible with any Bluetooth-enabled Smartphone iPod MP3 Player or Tablet to stream audio from to any non-Bluetooth device such as earbuds MP3 Players headphones car stereo home stereo or other mobile devices with a 3.5mm AUX output.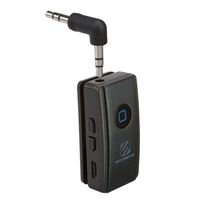 Scosche Industries Bluetooth Wireless Receiver (3.5mm)
Usually ships in 5-7 business days.