Kanex

Kanex Premium DuraBraid USB-C to Lightining Cable, 4 Feet (Black)
Overview
Kanex cables are Apple MFi Certified, which means they are made specifically to fit with your iPhone, iPad, or iPod so you can expect quality performance and reliability. This cable provides the optimal amount of power to your phone by adjusting the voltage based on your battery percentage. Simply plug the Kanex Premium USB-C Cable with Lightning Connector into a USB-C wall charger to take advantage of your iPhones Fast Charging feature. Charge up to 50% battery in 15min.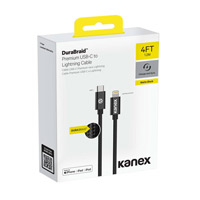 Kanex Premium DuraBraid USB-C to Lightining Cable, 4 Feet (Black)
Usually ships in 5-7 business days.