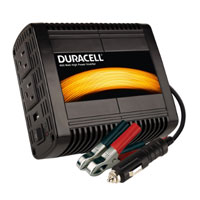 Duracell

Duracell 400 Watt High Power Inverter
Overview
Duracell 400W High-Power Inverter includes two AC outlets and one 2.1Amp USB port so you power your phone, laptop or gaming system with your vehicle battery. It is fully vented for safe, quiet operation. Features threaded terminals for securely attaching the included power cables. Contains Overload, over-temperature, and short-circuit protection.
Duracell 400 Watt High Power Inverter
Usually ships in 1-3 business days.