Available for In-Store Pickup Only.

Overview
The SparkFun Qwiic Motor Driver takes all the great features of the Serial Controlled Motor Driver (SCMD) and miniaturizes them, adding Qwiic ports for plug and play functionality. Boasting the same 4245 PSOC and 2-channel motor ports as the SCMD, the SparkFun Qwiic Motor Driver is designed to communicate over I2C to make setting up your next robotic project as fast and easy as possible! Utilizing our handy Qwiic system and screw terminals for motor and power hook-up, no soldering is required to connect it to the rest of your system.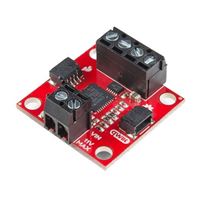 SparkFun Electronics Qwiic Motor Driver
Available for In-Store Pickup Only.