PowerSpec PowerSpec G434 Gaming Desktop PC

Intel Core i7-9700KF Processor 3.6GHz; NVIDIA GeForce RTX 2070 Super 8GB GDDR6; 32GB DDR4-3600 RAM; 1TB NVMe SSD
SOLD OUT at Cambridge Store

Overview
Intel Core i7-9700KF Processor 3.6GHz
NVIDIA GeForce RTX 2070 Super 8GB GDDR6
32GB DDR4-3600 RAM
1TB NVMe SSD
Microsoft Windows 10 Pro
The PowerSpec G434 desktop computer is a powerful gaming machine featuring the Intel Ci7- 9700KF unlocked processor cooled with a Cooler Master MasterLiquid ML240L 240mm RGB Water Cooling Kit mounted on an ASRock Z390 Phantom Gaming 4S/AC System Board. For gameplay domination it includes an NVidia GeForce RTX 2070 Super Video Card with 8GB of GDDR6 memory and 32GB DDR4 3600 RAM. The Windows 10 Professional Operating System is loaded on a 1TB NVMe SSD to provide an incredible experience playing the most demanding games in the market today!
Dominate With Power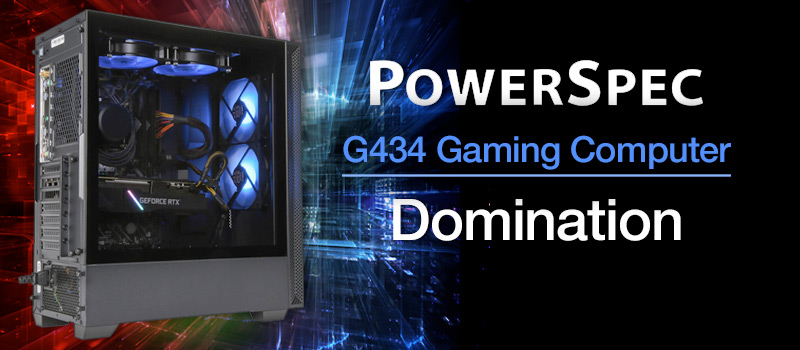 Great For Gaming, Streaming, Making Videos, And More
PowerSpec G-Series PCs are known for impressive power and performance for any task and the PowerSpec G434 delivers both and so much more. Its multi-core processor is well equipped to handle demanding projects and games while its feature-rich graphics card enhances your visual experience whether you're fighting aliens in far away worlds, streaming, or making family videos. The G434 is a powerhouse of high-quality components and superior technology including plenty of memory and storage for your important files and favorite photos all protected by built-in security features to keep your data and memories safe from harm.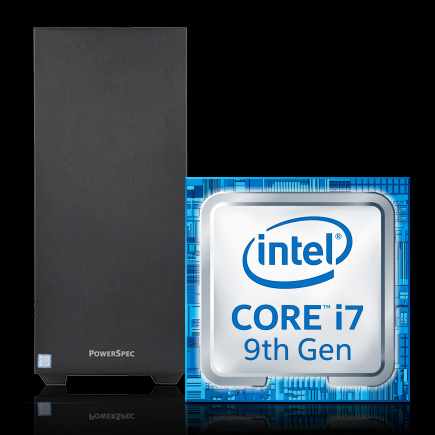 Intel® Core™ i7 9700KF
Every great warrior has a battle weapon of choice. The 3.6GHz unlocked Intel® Core™ i7 9700KF is that weapon. It has a Max Turbo Frequency up to 3.6GHz, 16 MB of Intel Smart Cache, and 8 cores of pure processing power plus:
Optane Memory supported: Quick access to essential data
Virtualization technology: Enhanced capability
Intel Secure Key: Data protection via encryption
Boot Guard: Protection from malicious software and attacks
NVIDIA GeForce RTX 2070 Super Graphics
Built on Turing architecture, the RTX 2070 Super delivers more than six times the performance of previous generation NVIDIA graphics cards. It features real-time ray tracing enabling cinematic quality graphics rendering, and is capable of powerful AI-enhanced graphics for exceptional realism. Specs include 14 Gbps memory speed, 8 GB GDDR6 frame buffer, and 1770 MHz boost clock.
The RTX 2070 Super also features NVIDIA Ansel and so you can capture 360 degree HD in-game highlights and stream them live or share them as videos or still images. NVIDIA Studio platform enhances your creative apps and takes your 3D animation, video, and photography to the next level. And it's packed with other great features like, DirectX 12, NVIDIA G-Sync with refresh rates up to 240Hz, game-ready drivers, and more.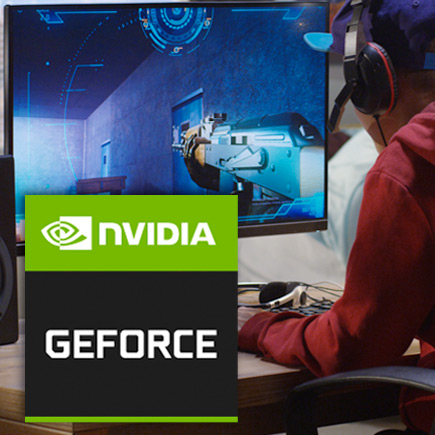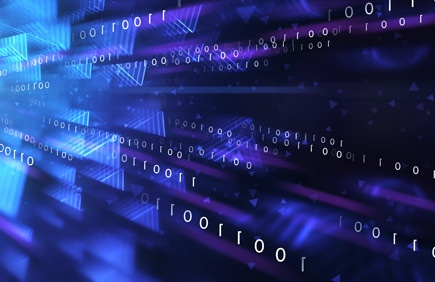 1TB NVMe SSD
NVM is an acronym for non-volatile memory, NVMe is NVM express. One of the primary benefits of this type of storage is improved speed and optimized performance over older style spinning platter hard drives and older SATA technology. Also, solid state drives are considerably more stable. With better communication handling and more capacity to send and receive data, NVMe solid state drives are well equipped to handle next-gen storage expectations.
32GB DDR4-3600 RAM
DDR4 has improved function over DDR3 offering faster data transfer rates and more memory banks giving it increased capacity. It also requires less energy so it is more power efficient. The more capacity and the faster the speed, the better your memory is able to keep up with today's multi-core processors.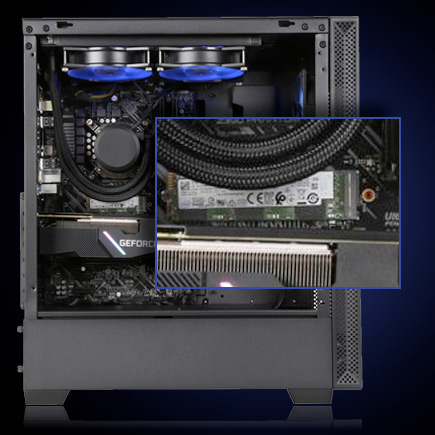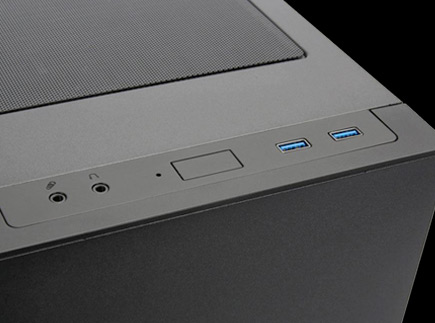 Front And Top Panel Ports
The G434 has easy access to your most often needed ports including:
2 x USB 3.1 (Gen 1 Type-A)
1 x headphone
1 x microphone
Lian Li ATX 205 Case
The Lian Li 205 demonstrates elegance and minimalism in its sleek design. Show off your build with its tempered glass side panel. Fit to house any component you desire. You dream it, you can build it in this case. From water cooling to custom fans!
See More Desktop Gaming Computers
See More PC Desktop Computers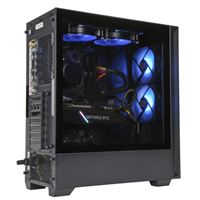 PowerSpec G434 Gaming Desktop PC

Intel Core i7-9700KF Processor 3.6GHz; NVIDIA GeForce RTX 2070 Super 8GB GDDR6; 32GB DDR4-3600 RAM; 1TB NVMe SSD
SOLD OUT at Cambridge Store