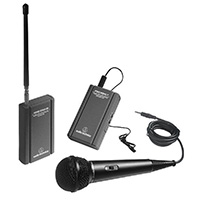 Audio-Technica

Audio-Technica ATR288W Wireless Twin Microphones
Overview
Audio-Technica offers its ATR288W TwinMic VHF wireless system. It is a multi-purpose wireless system with two microphones that provides versatile performance for camcorders, karaoke, DJs, houses of worship, schools, meetings and presentations. It includes ATR35 miniature lavalier condenser microphone for "hands-free" uses such as aerobics, dance, theater, lectures and "newscaster-style" videos. This system also includes ATR20 dynamic microphone for handheld uses such as singing, talking, recording and videos. Compact, ultra-lightweight transmitter and receiver are each powered by a single 9V battery. Its normal operating range is 100' and up to 300' under optimum conditions. You'll find two user-switchable frequencies for interference-free operation very useful. The system includes earphone for real-time monitoring capability and durable, rubber-coated, flexible receiver antenna that can be positioned for best reception as well as a belt-clip and quick, reliable camera mount adapter for easy positioning and use.
Audio-Technica ATR288W Wireless Twin Microphones
Usually ships in 1-3 business days.